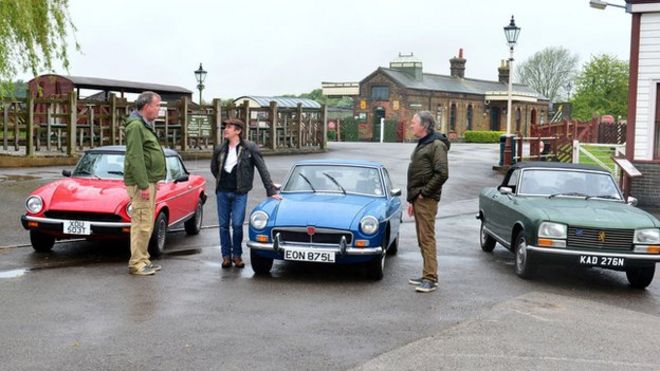 Last weekend, we witnessed the final Top Gear episode that will feature the three middle-aged blokes known as Jeremy Clarkson, Richard Hammond and James May. Due to the recent fracas with the show's producer Oisin Tymon, the main man Jezza is gone, and the whole production goes along with him, hence the last episode as we know it.
Still, there were leftover footage of two different challenges that squeezes out the remaining essence of Top Gear. So for today's (rather unusual) list, here are the TOP 10 Final Tropes of the Final Top Gear Episode!
WARNING: Spoliers ahead and GIF heavy!
________________________________________
#10. The last time May does his victory dance
Captain Slow has given the new meaning of winning! (Although the Hamster has done that embarassingly!) Despite having a poor, slowest time in his Pug 304, he still danced as if it didn't matter!
#9. The last time Hammond does the intro
If you may remember back in series 12, Richard filled in for Jeremy in the intro because Jezza had a soar throat. It was funny back then since we had a laugh off of Clarkson's voice and saliva spray. Now though, it isn't, and it doesn't feel the same.
#8. The last time May bought the wrong car
While I'm quite interested with his Peugeot 304 Decapitated and Mitsubishi Pinin Turboactive, they didn't actually help May. Sure he won the race to Broughton Hall, but that's it. But hey, it's for good comedy, right?!
#7. The last time Clarkson brought up a penis joke
Jeremy is no stranger when it comes to...gentlemen's sausages. He would always bring it up, no matter what the situation! This time, Jezza thought it would be appropriate to fit his Pershing Frontera with large penis-spoked rims! Certainly reverened!
#6. The last time they introduce their top secret facility in a silly-named town with an innuendo reference
This one is a rather long and specific trope, but you gotta admit that it's clever and corny. Just like Penistone in the hovervan episode, the gate board would separate to bring a new meaning to its words. Same story for their race car sponsors like Peniston Oil, Larsen Biscuits, Amerdea du Fromage, the lot.
#5. The last time Clarkson referred his previous controversy
Clarkson has been notoriously known for his criticisms from the very sensitive British public. He would actually bring up his misdemeanors on the show, like the "slope" controversy here. It was also brought up in the Patagonia Special about a bridge being straight. Both had me in stitches!
#4. The last time Clarkson encountered a close call
From almost smashing into his drum set with a Porsche 944, to almost hitting a train head-on with his TGV-12, Jezza is a lucky man...well, most of the times. This time, he almost drove his Frontera into the muddy pool of effluent. The biggest highlight of the episode!
#3. The last time they destroy caravans
Ever since the advent of new Top Gear, the crew always had the motive to wreck every caravan they buy, and it's no different in this episode! Since it revolves around the SUV lifestyle, obviously they would sneak in the menace of British roads! Another laugh of the episode, even James's laugh after that incident was intoxicating!
#2. The last time they were ambitious but not rubbish (sort of)
To be honest, I quite like what they've done to their roadsters. Jeremy's Fiat looks less crap, Richard's MG is pretty, and James's Pug...well a bit meh, but the yellow lights were a nice touch. Although after Japfest, we soon found out that all of them broke down. Shame. The trio were ambitious but not rubbish...until near the end!
#1. The last time we get to see Jeremy Clarkson on BBC
I know, I know! Soon, he'll start a new show with Netflix, probably called "House of Cars", in the future! But then we realize...Top Gear as we know it is finished. British viewers won't get to see their favorite bell-end again on Sunday nights at 8 on BBC 2. It became their sort of "ritual" ever since its popularity, now turned into ashes.
________________________________________
And...that's it. Top Gear as we know it is over. With BBC Radio Breakfast Show host and Ferrari collector Chris Evans holding the torch for the future of the show, I wish Jeremy Clarkson, Richard Hammond, James May and Andy WIlman godspeed!